---
A Wandering Soul Returns Home
We then took a cab to the home of a friend of Wayneís, a woman named Phan Thanh Hao, who runs a rehabilitation center and who also publishes a newspaper called ď
Education and Times
.Ē It was her article in the newspaper the Hoang family saw and through which we made out first contact with them. This eventually led to Wayneís returning the documents I found on Damís body to the family.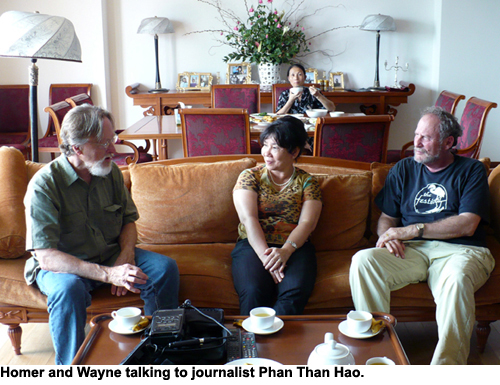 After our meeting with the journalist, we walked to the Hoa Lo Prison, aka the "Hanoi Hilton", where John McCain was imprisoned.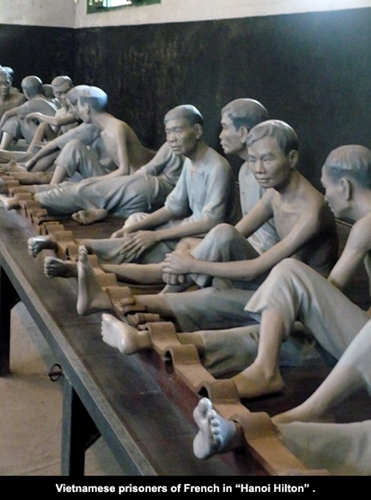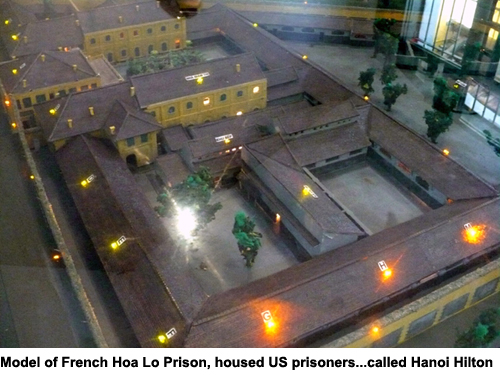 We returned to the hotel by mid afternoon, where Jessica had an attack of jet lag and slept all afternoon and most of the night. I walked around the neighborhood and took some video of the street traffic, before going to bed early for a couple of hours..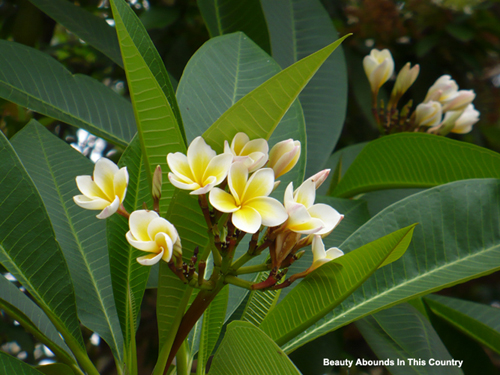 Around 11:00pm Wayne and I went to a one man show of an artist friend of his. The show was titled ďEverymanĒ. In the middle of a bare room stood a painted wooden statue of a Vietnamese bureaucrat, looking weary. He is in the middle of a ten foot circle of crumpled sheets of official office memo stationary, piled to his knees. On the left, right, and back wall is a solid line of 8 x 10 official looking photos of the bureaucrat posted at shoulder height. When I looked at the scene, I felt a flashback to my days at the office, when the pure monotony of it all seemed to be more than I could take. ďEverymanĒ has probably reached that moment at some point in their life, where our job roles seemed to have us trapped. It evoked a deep sadness and sympathy for the figure. The artist does motorcycle tours along the Ho Chi Minh Trail. I also met an AP reporter, Duc, a poet friend of Wayneís and his girl friend. We all jumped on the back of their mopeds and went to a Duc's girlfriend's cafe the Communist Cafe (Cafe Cong), referring to the decorations on the walls, where we spent the early morning hours in good conversation enjoying great Vietnamese cuisine. Riding on the back of a moped in Vietnamese traffic is a very high adrenalin experience. You soon feel the rhythm of the traffic and it all begins to make sense. Just after midnight we caught a cab back to the hotel. Tibby had just tried to reach me, and left a message, that she would try again in the morning. I canít believe how open and comfortable I felt talking with these people. It is so wonderful to find people with open minds and a deep desire to make the world a better place even here, half way around the world.
Friday
23 May 2008
Met Bill Deeter, from the United States of America Embassy, who is a MIA researcher. Asked him about the latest status of some of the MIAís from my unit and promised to get him some information about one of my NCOís he wanted to make contact with. We visited the Temple of Literature, founded in 1070 by King Ly Thanh Tong to honor great men of academic achievement. Six years later it became the first University of Hanoi.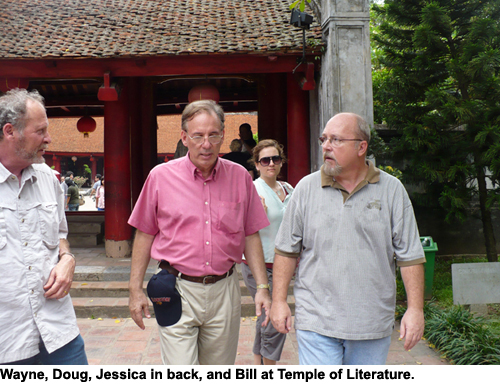 Students still rub heads of stone turtles on stele engraved with names of students who passed the Universities Examinations.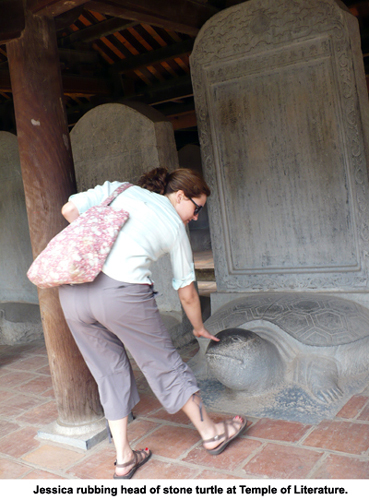 Lunch sitting on floor, dog on the menu, same restaurant we were at last night.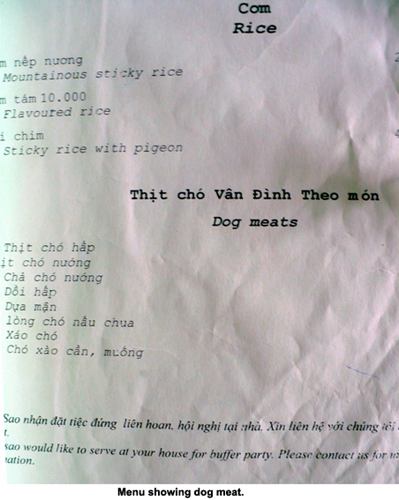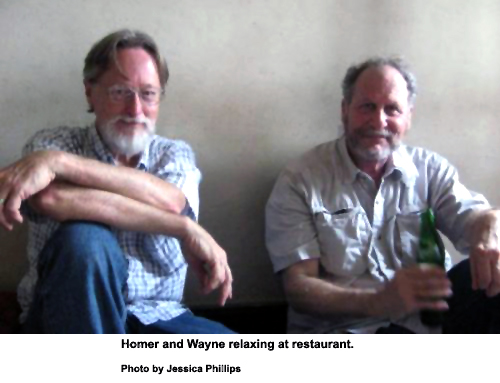 Next we visited a grocery store and picked up some snacks for the long train ride. I shot another couple of minutes of video of the street traffic. It is very hot and sweaty today, sun out full, no breeze. Did an audio interview with Wayne for Jessica back at the hotel. Had evening meal with family of Phan Thanh Hao, the journalist. I was told that I had to eat at least three bowls of rice to be polite. I pointed out that I did not consume that much food in a single day, and being the independent minded jerk that I am, would politely have to stay with one bowl, manners be damned. I am beginning to feel at ease with chop sticks at last. Since this is my first experience with them, I think I have learned fairly quickly. Hunger and embarrassment are good motivators.
Saturday
24 May 2008
Left Hanoi around 8:30 AM and traveled to Thai Bing to meet Hoŗng Ngọc Đảmís family in Thai Giang in Thai Binh Province. About 50 miles, 3 hours drive.
We proceeded to the village along a one lane, roughly paved road with rice paddies along both sides, with the occasional home and one small commercial section. We shared this narrow road with mopeds, bikes, people on foot, water buffalo, and one really large truck, which I really didnít think we could pass, but somehow we did with inches to spare. We made a stop at the political officers building and were welcomed and all our names, ages, and passport numbers duly recorded. When we arrived at the village, we were escorted to the courtyard outside the family home, where the immediate family was gathered at the family altar, conducting some sort of ceremony. Thi Dam his niece and namesake, had become possessed with Damís spirit and was wailing and Dam was speaking to the family through her. We waited in the sun and heat for about 15 minutes before being invited inside. First I placed an offering of fruit on the altar, then each of us placed offerings of incense on the altar.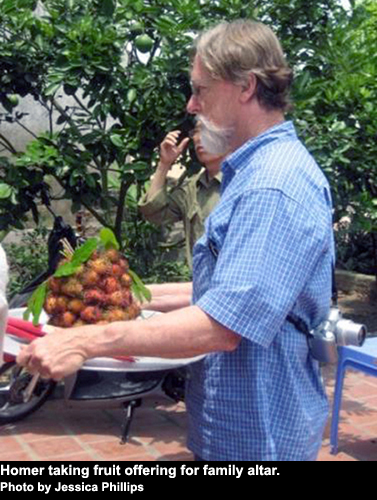 The niece was still wailing and grimacing all the time. There was a photo on the altar of Dam and his other brother, who had also died during the war. I found my eyes drawn to the eyes of Dam in the photo. The whole time we were there, and every time thereafter that I was in the presence of those photos, I felt an irresistible urge to look into Damís eyes. It was very compelling. Throughout the entire time there I had half a dozen emotional outbursts of voice cracking, and tears flowing freely. It was so unlike me. I have never shown tears in the last 39 years, since the war. Then we all sat in very small plastic chairs around a low table, but that was too crowded, so we just put down mats and sat on the floor and shared some food. Then the oldest surviving brother began to discuss their plans for the next few days. They somehow added an extra day into the schedule, from when we last talked with them and it really threw us for a loop. The discussion took over an hour. We moved outside for some group photos and for a few staged shots for the Vietnam TV reporter. Then we lighted incense sticks one last time and said out goodbyes. We left at 3:30 with brothers Hoang Dang Cat and Hoang Huy Loang, sister Hoang Thi Tuoi, and Hoang Minh Dieu, the brother-in-law to drive to train station. We stopped at the veterans memorial on the way out of the village and placed a wreath we had brought with us.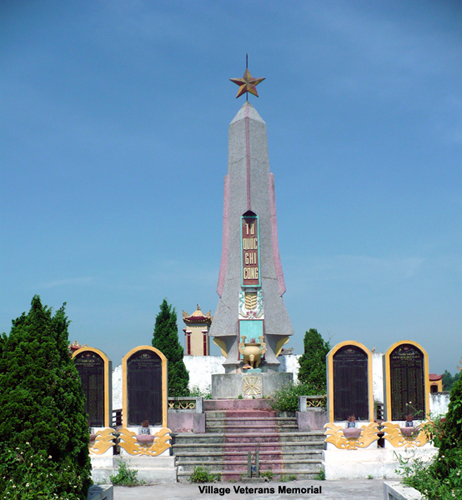 I saw Damís name on the stele at the monument.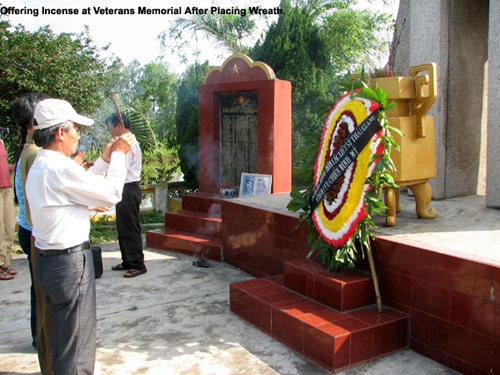 We drove for about 5 hours, then stopped for lunch in a hotel in Nam Dinh and I sent Tibby a short email, before boarding the train at 8:00 pm arriving in Vinh about 1:00 am. Duration of train ride 5 Hours. I sat up awake all the way, watching the mice scurry back and forth across the aisle. All was well until on actually ran across Jessicaís bare feet. I donít think she slept much the rest of the way.
Sunday
25 May 2008.
Went straight from train station to hotel and bed. I was awakened by loud speakers about 6:30 AM broadcasting local news. We had breakfast with Damís family members. We visited LTC Nguyen Thi Tien, retired, who has spent several years finding remains of some of the more than a quarter million Vietnamese MIA. She built a memorial at the Military Zone 4 Museum to honor the martyr's who remain missing from the war.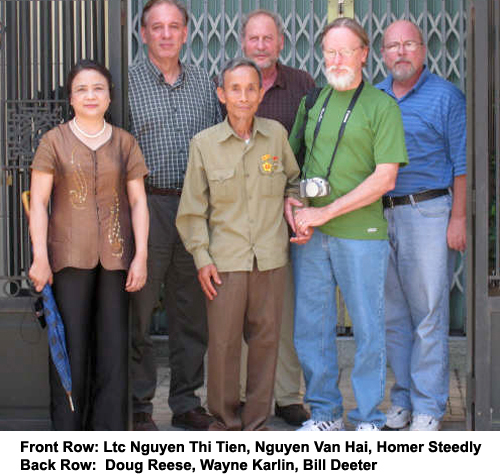 Photo courtesy Wayne Karlin.
We met Nguyen Van Hai, the truck driver whose license Dam had on him. Hai, in his 70ís had ridden a moped 40 kilometers in spite of his bad knee and rough roads to meet with us and get his drivers license back.. We met the Hoang family at the museum and took a tour.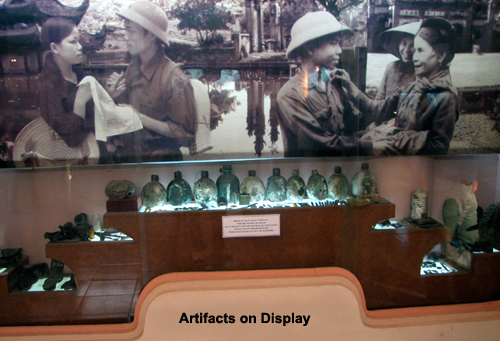 The French camera man from Viet Nam TV tried to get us to pose and act for his documentary. I finally had to tell him that I would never act that way and it felt and would look quite unnatural. On the way back to LTC Tienís home for refreshments, Haiís knee popped out and we had to help him on the walk back.
We then returned to the hotel around 2:00 PM to rest. We left around 6:30 pm to go to Nam Dinh to catch the overnight train to Quy Nhon.
Monday
26 May 2008
Arrived Quy Nhon around 10:30am. Saw some beautiful scenery along the railroad tracks.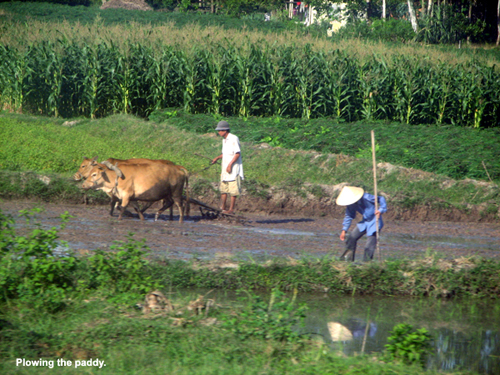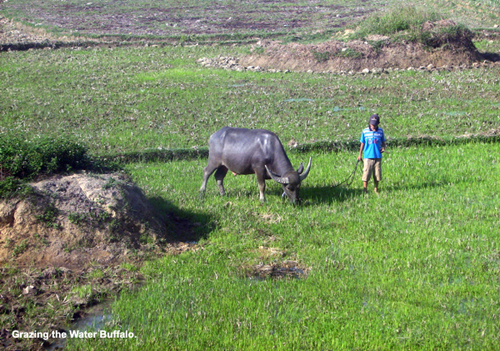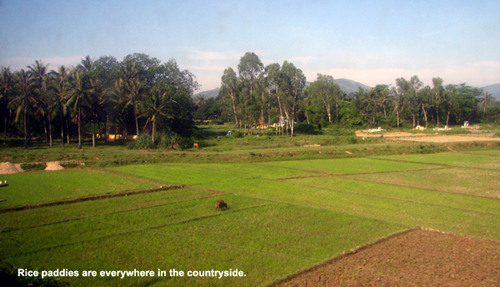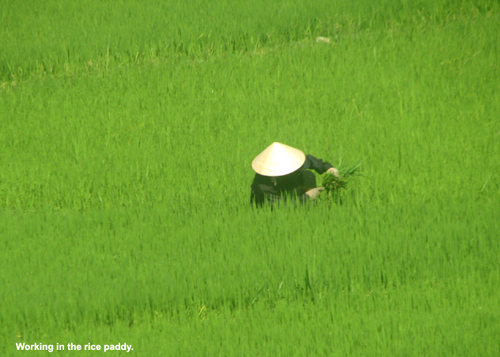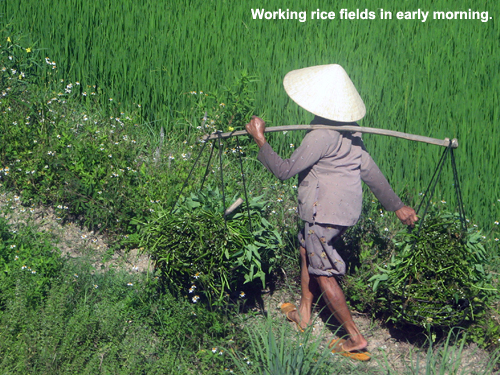 We set off for the 3 1/2 Hour drive to Pleiku through the Mang Yang Pass, near the area where Dam and I had our fatal encounter. The family set off in a separate car to arrange with the Provincial authorities to recover Damís remains . It is so hot that our feet sweat from contact with the hot metal of the floorboards of the vehicle. At the toll booths, we have to stop and buy a ticket and then drive 150í further to turn in the ticket at a toll booth. I asked why the apparent waste of manpower, since we could have simply bought the ticket at the booth and driven on through. I was told that this was one method of increasing employment by creating jobs. It also speeded things up for those who did not need to stop and buy a ticket. When we arrived in Pleiku, we found a hotel, then immediately set off to meet the family at the grave site. About five minutes down the road the family called to say the military police were suspicious of the Americanís intentions . They thought we might be spies. The family said for us to return to the hotel and they would stay and try to clear things up. I discovered that Pleiku is a major supplier of coffee and cinnamon to the world.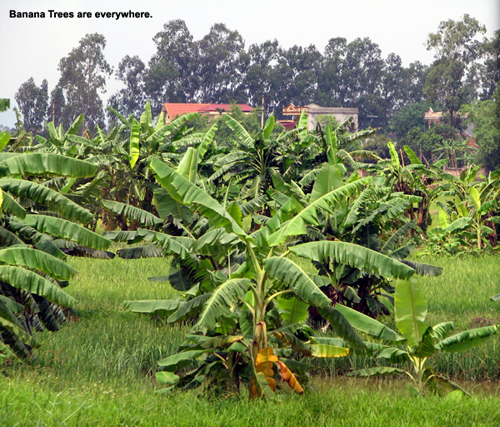 Tuesday
27 May 2008
We left the hotel around 7:30 am for what we expected to be a 3 Ĺ hour drive to meet the family at the grave site where we believed Damís remains were buried. About an hour out, we got another call from the family, saying they expected to take all day getting permission to exhume the remains. They suggested we return to Pleiku and wait.
On the way back, we took the old road to Camp Enari, which could only be located by the concrete pad of the guard shack at the entrance and Dragon Mountain in the distance.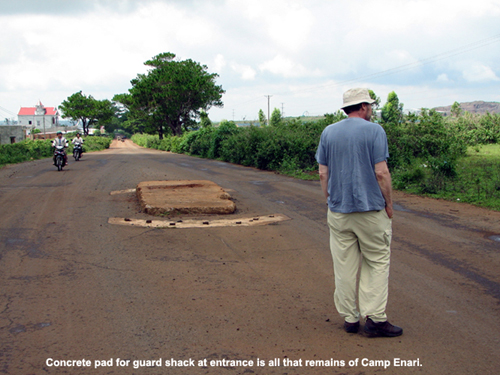 I took a sample of the red Pleiku mud I remember so well.
We returned to the hotel, where we had lunch and I took photos of Pleiku from the roof.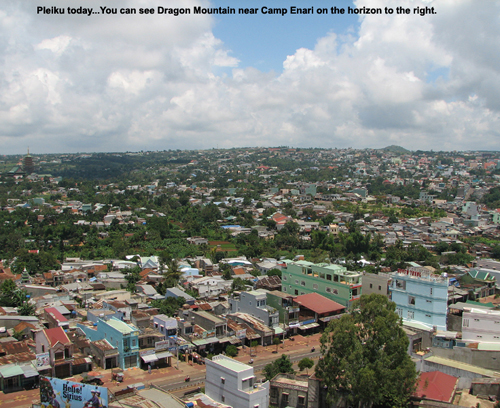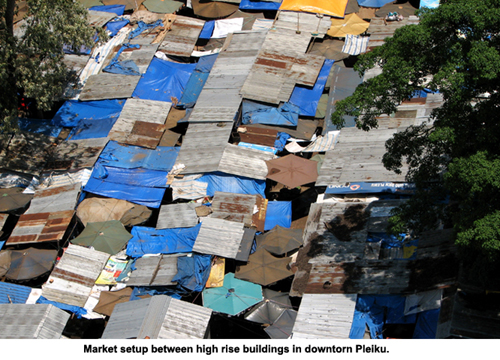 Continue
Previous
---
All Email addresses are in picture format only to discourage web bots from harvesting for junk mail lists. Type them into your mail manually. Site designed for Internet Explorer Version 6.0 or higher, viewed with text size medium and desktop resolution of 1024 x 768 pixels.
---
Webmaster:Homer R. Steedly Jr. (Email: Swamp_fox at earthlink.net) Copyright 08/12/1995 - 05/26/23. Commercial Use of material on this site is prohibited.