---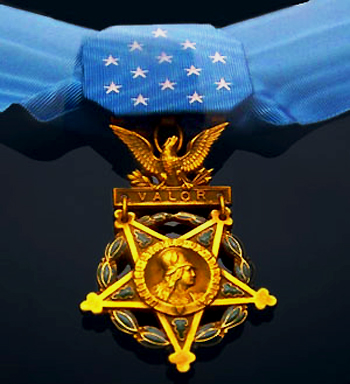 Medal of Honor
ROARK, ANUND C.
Sergeant, U.S. Army
Company C, 1st Battalion, 12th Infantry, 4th Infantry Division
Kontum Province, Republic of Vietnam, 16 May 1968.

Entered service at: Los Angeles, Calif. Born: 17 February 1948, Vallejo, California.
Citation
For conspicuous gallantry and intrepidity in action at the risk of his life above and beyond the call of duty. Sgt. Roark distinguished himself by extraordinary gallantry while serving with Company C. Sgt. Roark was the point squad leader of a small force which had the mission of rescuing 11 men in a hilltop observation post under heavy attack by a company-size force, approximately 1,000 meters from the battalion perimeter. As lead elements of the relief force reached the besieged observation post, intense automatic weapons fire from enemy occupied bunkers halted their movement. Without hesitation, Sgt. Roark maneuvered his squad, repeatedly exposing himself to withering enemy fire to hurl grenades and direct the fire of his squad to gain fire superiority and cover the withdrawal of the outpost and evacuation of its casualties. Frustrated in their effort to overrun the position, the enemy swept the hilltop with small arms and volleys of grenades. Seeing a grenade land in the midst of his men, Sgt. Roark, with complete disregard for his safety, hurled himself upon the grenade, absorbing its blast with his body. Sgt. Roark's magnificent leadership and dauntless courage saved the lives of many of his comrades and were the inspiration for the successful relief of the outpost. His actions which culminated in the supreme sacrifice of his life were in keeping with the highest traditions of the military service, and reflect great credit on himself and the U.S. Army .
---
All Email addresses are in picture format only to discourage web bots from harvesting for junk mail lists. Type them into your mail manually. Site designed for Internet Explorer Version 6.0 or higher, viewed with text size medium and desktop resolution of 1024 x 768 pixels.
---
Webmaster:Homer R. Steedly Jr. (Email: Swamp_fox at earthlink.net) Copyright 08/12/1995 - 02/09/22. Commercial Use of material on this site is prohibited.