---
Click on the "Task Force Alpha" hyperlink and read the entry of 19 March 1969, that describes the tragic encounter during which I killed Hoŗng Ngọc Đảm.
The links below display scans of some of the documents he had on him at the time of his death.
Links to additional documents.
1965
1966
1967
1969
I believe these are some kind of certificates of achievement.
---
Medical Booklet with pen and ink illustrations:
Links to other pages.
Page 0
Page 1
Page 11
Page 25
Page 40
Page 45
Page 62
Page 140
Page 150
---
Mathematics Booklet handwritten:
Links to additional pages.
Page 0
Page 1
Page 22
Page 59
---
Additional Documents Dam carried. The photo id was from a truck driver, who survived the war.


Links to other documents.
ID Card Outside
ID Card Inside
Card Front
Card Back
Sheet 1 Front
Sheet 1 Back
Sheet 2 Front
Sheet 2 Back
Sheet 3 Front
Sheet 3 Back
Sheet 4 Front
Sheet 4 Back

Wayne Karlin, a Marine helicopter door gunner during the Vietnam War and now a Professor in the Languages and Literature Department of the College of Southern Maryland who has written several about the war and it's aftermath, contacted me to say he would be going to Vietnam in May. He agreed to take these documents to the Vietnamese Veterans Association for me. They will attempt to return them to the next of kin. I only wish I had returned them sooner.
Any other vets who have personal documents...letters, military awards/orders ... you should consider giving them to the Vietnamese Veterans Association, or at least photo copies of them. They are still trying to clear up hundreds of thousands of missing in action cases from the war. Sometimes we forget that we were not the only ones who had MIA's. If you have any specific information about Vietnamese KIA's this group would be very grateful for your assistance.
Correspondence About These Documents Includes letters to me from Dam's surviving brothers and sisters.


UPDATE:
Thanks to Wayne Karlin, the documents have finally been returned to Dam's family. The following description is recounted from the email Wayne sent me shortly after he concluded the document return ceremony. The photographs are taken and used by permission of George Evans and his wife Daisy Zamora. George is a friend of Wayne's and was a medic in Vietnam in 1969 also. It seemed very appropriate to have a fellow medic accompany Dam's documents on their journey home.
This description is mostly in Wayne's words. You can tell he is a gifted writer and that all those involved in the return were deeply moved......
---

Itís hard to convey how powerful an effect the return of Damís notebook and certificates had on his family. I know it has left me profoundly shaken and changed. Iíll try to describe all that I saw and heard, because I tried to essentially be there as your surrogate.

The family had been found by a friend of mine, a woman named Phan Thanh Hao who runs a rehabilitation center and who also publishes a newspaper called ďEducation and Times.Ē It was the article in that paper that the family saw, and they called Hao, who with much effort, literally hundreds of phone calls, arranged our visit. We left Hanoi for Thai Binh at about 6:00 in the morning on Saturday, the 28th of May: Hao, another writer named Y Ban, me, and George Evans and Daisy Zamora (husband wife); old friends of mine who were along on our radio project. George is also a Vietnam veteran; he was a medic in 1969, and so I thought appropriate to take along. Also with us were two young women journalists.

The village is located deep in the countryside south of Haiphong and it took us more than three hours to get there, even though it is only, as the crow flies, about 40 or 50 kilometers from Hanoi.

Some of the members of Damís family arranged to meet us at a bridge near the main road, where they would lead us to the village. We stopped the car at the top of the bridge and staying in touch by cell phone, soon meet them: Damís brother and sisters. When they came out of their car, they were all wearing the white headbands that signify mourning and they were all weeping. I was taken by the depth of their grief. It was as if Dam had died yesterday instead of so many years ago. They asked us to follow them to the village and for me to keep the documents for now. As we drove through the lush green countryside, surrounded by rice fields, they would from time to time throw pieces of green and orange paper from their windows - Buddhist colors - in order, as Hao explained to me, to lead Damís soul back to his village.

As we came into the village, I was stunned to see that the street was lined with people, hundreds of them, the entire village, most of whom were wearing white headbands, and many of whom were weeping and keening. Many of Damís other relatives were waiting as we stopped the car - an entire extended family of aunts, uncles, nephews, nieces, cousins. His sisters and brothers were all weeping, touching the book - as was a woman I found out later was his wife - they had only been married ten days when he had gone to the war.

We stopped in the village administration office and were surrounded by a small sea of grieving people.

Click on photo's for larger images.




I gave the weeping Cat, Dam's brother, the documents and he examined them before we began the formal ceremonies.






Next we were taken in a procession to the community center. Its veranda was ten deep with people.






The place was packed, men, women and children. We were surrounded by people who just wanted to touch us and the documents. There was no hostility or sense of blame - it was literally as if we had carried his soul back, which, in the Vietnamese belief system, we had. Inside, on a stage, the altar had been brought from Dam's family home.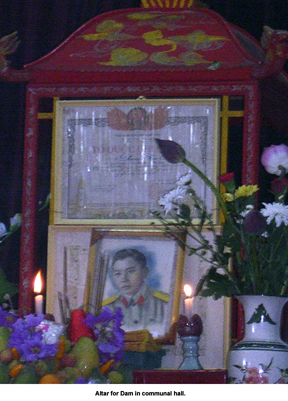 It contained incense and flowers and a large photo of Dam and was flanked by two Vietnamese veterans, standing at rigid attention, in dress white uniforms. Dam's niece was there. She had been only six when he left for combat. She had severe eczema and remembers Dam as the only one who would hold her and wash her.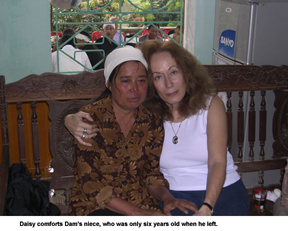 After several village and district notable made speeches, Damís brother got up and spoke.




He thanked you deeply, Homer, for allowing the family this release. Then I got up on the stage and presented the documents to him.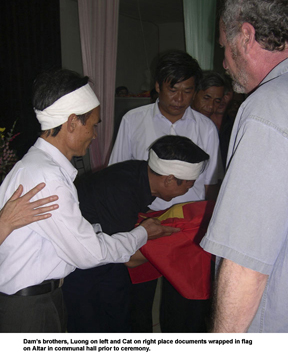 The entire village was crying as he placed them on the altar. The ceremony was dignified and moving, and I have to tell you, I couldnít help thinking that no American town would do so much for one of their own.

After about a half hour, we rose and the altar was taken to the family house.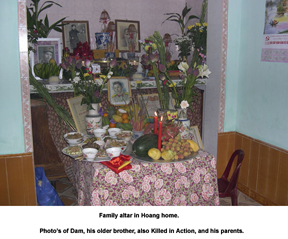 We were invited in, where there were dozens of people with more on a kind of patio area under some fruit trees outside, where tables and chairs had been set up for a huge feast. The altar was against the wall, with photos of Dam, and his other brother, also killed in the war, and - of whom no remains have ever been found. People kept filing in to see and touch the documents. These, by the way, included the other papers Dam had had with him, including those of Nguyen Van Hai, the driver whose photo and ID card you had. It turns out that Dam had been carrying those documents for the others and that Hai is still alive and is coming to Thai Binh to take back his things!

I sat next to Cat, Damís brother, and to a man named Pham Quang Huy, who was in Damís unit and who was actually with him on the day he was killed. It turns out you are very lucky to be alive, because Dam was with eleven other soldiers that day; he as a medic, the others what Hong called ďlogisticalĒ soldiers. He said their base camp had been attacked by the Americans and they were told to move through the jungle to another area. When you had your fatal meeting with Dam, they were ordered, I believe, to withdraw without engaging. They came back later, he said, to find the body, but it was gone. He, and the others, did not see the actual shooting - Dam was ahead of them.

That reason was part of why this family is eternally grateful to you for returning the documents and for confirming what happened. It seems that some years afterwards, Damís mother was told by a fortune teller that Dam was in America, and that some day he would come home and be greatly honored. Some of the people in the village took this to mean he had defected and finding now that in a sense he had been in America but only in the sense of a piece of his soul and he had been killed in action, took some onus from the family - and the ceremony that day fulfilled the rest of the fortune tellerís prophecy.

But the deeper reason I think for their gratitude can be seen in certain statistics. 200 young men from that small town died as soldiers in the war. Few of their remains have ever been found. Most of the families have no idea where or how their sons died. In that way, Dam became the son for all of them.

We ate with the family for about an hour and spoke about simple things - our families, our homes, and the tragic losses of war, the price of hatred.




I was told many times that they wish you could come. I donít know how you would have felt being there, Homer - for me it was both excruciating and profoundly moving and left me, as it did them, with a deep sense of peace and fulfillment. I know you would go through the same emotions, only that much stronger. I hope some day you will be able to go there. I know they will always welcome you.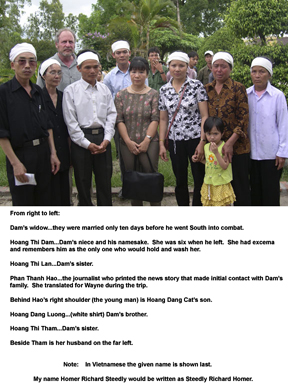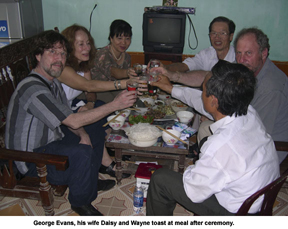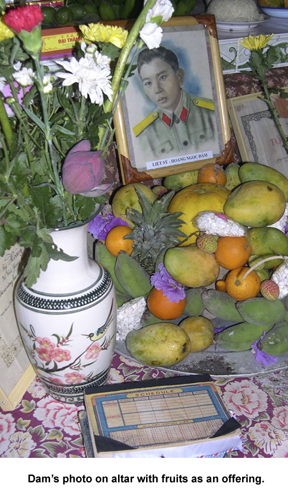 We took many photos, which I will get on disk and get to you, along with the articles that appeared in the Vietnamese newspapers.

Iím writing this from Hanoi - will be here traveling around the country for two more weeks with a team from National Public Radio. I did not take them when I went out because I felt this is your story, not mine. But it is a story the radio people want to tell, so if that it ok with you, they will try to do a program about it.

Be well, and thank you.

Wayne
---
To Hear Radio Interview about returning documents to Vietnam Medic's family, click here.
---
As you may well imagine, I was completely overwhelmed by emotions upon reading Wayne's email. I could not afford the trip to return the documents in person and owe Wayne a large debt of gratitude for going through that emotional scene in my place. Throughout all my years of denial and PTSD I kept those documents safe and always felt the need to return them. I like to think that it was Dam's gift to me. It has not only been a healing experience for his family, but for me as well. I look forward to meeting Dam after death. I believe we will have much to say to each other.

I hope that any one out there reading this page, who has documents, or first hand accounts of the deaths or disposal of remains of Vietnamese soldiers, will contact the Vietnamese Veterans Association and help them resolve some of the over 200,000 remaining missing in action cases. The war is long since over. Let the healing begin.

Marc Steiner did a radio program called "Wandering Souls" for his radio program and has graciously permitted me to post it on the site.

UPDATE:
I returned to Vietnam in May of 2008 and the with Dam's family, located his remains and returned them to his village cemetery. This link will take you the page that tells of that healing journey. It has lots of photo's of the trip, so it will take a long time to load. Be patient, the story deserves all the photos.

The Vietnamese Television documentary of my return to Vietnam to recover Hoŗng Ngọc Đảm's body and bury him in his home village cemetery was documented by VTV1, Vietnamese television. Remember this was produced for a Vietnamese audience, so some artistic license is used to make it culturally correct for it's intended audience. Remember, Dam is a heroic martyr in their eyes and in mine.


A Wandering Soul is Returned to His Village After 40 Later.

Click on Photo to View Movie of Return Trip by VTV1, Vietnamese TV Documentary, currently available on YouTube.
---
All Email addresses are in picture format only to discourage web bots from harvesting for junk mail lists. Type them into your mail manually. Site designed for Internet Explorer Version 6.0 or higher, viewed with text size medium and desktop resolution of 1024 x 768 pixels.
---
Webmaster:Homer R. Steedly Jr. (Email: Swamp_fox at earthlink.net) Copyright 08/12/1995 - 09/14/23. Commercial Use of material on this site is prohibited.