---
D/1/8
Guest Book Archives
---
Add your viewpoints and memories to the dialogue and help me tell the whole story.
Email Addresses will be posted as pictures only, to discourage junk mail robots harvesting websites.
---
Email me at the address shown below. If you want your communication posted to the public guest book, please use a subject line in your email like this: Subject: (Guest Book yes) (Email no) The parenthesis and key words Guest Book and Email trigger my programs and make it easier for me to post your entry. The Yes or No let me know whether to post your message to my guest book and whether to post your email address along with the guest book entry. If you do not wish to post your email address, you could simply ask them to contact you through my email address. I will forward the emails to you and let you decide whether to make direct contact.

When in doubt, I will assume that your email is a private communication and will not post it. I tried automatic guest book forms, but was not satisfied with the reliability across browsers and operating systems. Simple email appears much more reliable. I look forward to hearing from all of you.
Thanks....Homer
PS: Please indicate whether to post your message and email address to the guest book.

All Email addresses are only pictures
to discourage robots harvesting websites for junk mail lists. You will have to write them down and type them into your mail program manually. If you want to contact someone who did not choose to post their email address, email me and I will forward your message to that person.
---
Looking to contact Lt. Tom Spangler, Platoon Leader D/1/8 nickname "Rat", Late 1967 - 1968. Contact through Swamp_Fox email below...
Posted 5 November 2016
---
John Robinson
C/7/17 Cav
March 1969 I was flying in a c/7/17 Cav OH-6 supporting 4th ID troops in the Plei Trap Valley. The unit we were supporting was in heavy contact and one particular small group was cut off from the rest of the main unit. The soldier with whom we were communicating was call sign "Tracer 5." He was in very close contact and told us that he observed numerous enemy troops, some with fresh dressings on their wounds. As nightfall approached we told him he'd have to make a break for it but he had a wounded (or perhaps dead) buddy with him and couldn't bear to leave him. We had to depart due to lack of light and the next day we were assigned to a different area and were unable to find out what happened to Tracer 5. Please post this in your site.
If you remember this incident, email me at the Swamp_Fox address at the bottom of the page and I will forward it to John.
Posted 5 May 2018
---
PFC James O. Holiday
D/1/8
Looking for anyone that may have served with PFC James O. Holliday of Illinois. He entered service in January 1966 and served until wounded 07 January 1968.
If you remember James, email me at the Swamp_Fox address at the bottom of the page and I will forward it to him.
Posted 4 January 2016
---
Gary Lysne
D/1/8
I got this from Gary and it really brought daily life back to my memory.
---
The things they Carried.... 
They carried P-38 can openers and heat tabs, watches and dog tags, 
insect repellent, gum, cigarettes, Zippo lighters, salt tablets, compress 
bandages, ponchos, Kool-Aid, two or three canteens of water, iodine 
tablets, sterno, LRRP- rations, and C-rations stuffed in socks. 
They carried standard fatigues, jungle boots, bush hats, flak jackets and 
steel pots. 
They carried the M-16 assault rifle. 
They carried trip flares and Claymore mines, M-60 machine-guns, the M-79
grenade launcher, M-14's, CAR-15's, Stoners, Swedish K's, 66mm Laws, 
shotguns, .45 caliber pistols, silencers, the sound of bullets, rockets, and 
choppers, and sometimes the sound of silence. 
They carried C-4 plastic explosives, an assortment of hand grenades, PRC-25 
radios, knives and machetes. Some carried napalm, CBU's and large bombs; 
some risked their lives to rescue others. Some escaped the fear, but dealt 
with the death and damage. Some made very hard decisions, and some just tried to 
survive. 
They carried malaria, dysentery, ringworm's and leaches. They carried the 
land itself as it hardened on their boots. They carried stationery, pencils, and 
pictures of their loved ones - real and imagined. They carried love for 
people in the real world and love for one another. And sometimes they 
disguised that love:"Don't mean nothin'!" They carried memories for the 
most part, they carried themselves with poise and a kind of dignity. 
Now and then, there were times when panic set in, and people squealed or 
wanted to, but couldn't; when they twitched and made moaning sounds and 
covered their heads and said "Dear God" and hugged the earth and fired their 
weapons blindly and cringed and begged for the noise to stop and went wild 
and made stupid promises to themselves and God and their parents, hoping 
not to die. They carried the traditions of the United States military, and 
memories and images of those who served before them. 
They carried grief, terror, longing and their reputations. They carried the 
soldier's greatest fear: the embarrassment of dishonor. They crawled into 
tunnels, walked point, and advanced under fire, so as not to die of 
embarrassment. They were afraid of dying, but too afraid to show it. They 
carried the emotional baggage of men and women who might die at any 
moment. They carried the weight of the world. 
THEY CARRIED EACH OTHER 
Author Unknown
---
James Barnes
Medic
D and B Company
1st of the 8th
Homer,
I was in Viet Nam from 8/67 to 8/68, with the 1/8 Inf, 4th Inf Div. I was with D CO at first and then ( I think B co at the last)
I was with Bruce Andrews when we started - then I was wounded in our first fire fight, I think it was 11/12 or 13/67.
I stayed out until about 12/01/67, then we went into the Ia Drang valley for about 3 days. We only saw movement and called in arty, and did not see any more movement so we left. We did go back later and spotted movement at night killing 4 of them; we had no one hit. I think we stayed maybe 3 days this time.
We were at a firebase and received a round which hit about 10 guys -I do not thank that any one was killed -but a lot of guys where hurt bad.
Tubbs was my other friend and a Medic. He went out on patrol with 5 other guys and as they where coming back into the base camp, he was hit by a grenade that had been placed in a bush. The SGT thought he was died, but he came though it OK. I believe 3 died that day (I think that was with D Company, 4 DEC 67). I was the first Medic there and they had already put 2 guys in bags. I made them take them out and made sure they were dead...(sorry). In Nov 67 we were hit and 3 other great guys where killed.
I had malaria twice, while in Nam. I had to go to Cam Rahn Bay the last time. I came back and stayed in the field about a month, then was sent to Dak To. That's where I stayed for the last 2 months in Vietnam, however it was the greatest time. We worked North of Dak To in the Montagnards village, almost 3 times a week. met the Chief's son, who had been wounded on the chin. His dad was killed by the NVA, so I took him to base camp and worked on him. I let him stay with me, until I had to come home. One of the hardest things I had to do was to take him back to the village. He did not like it - it was a very sad day. One of my friends thinks that a DOC took him home, but I do not know.
SP 5 James Barnes
Medic 67-68
I hope this will help you-I found about 4 D CO guys from your list I hope you can add my name.
Thanks James Barnes
I had a stroke about 11 years ago so! I try my best...
Plan on meeting at the 4th Inf meeting July 4th in Branson, MO this year.
I think that will be great ... Hope you are there ... James Barnes
Some drawings by James are shown
here:
If you need to contact James, email me at swampfox address below and I will forward it to him.
Posted 6 MAR 2011
---
Tracer 5
Mr. Steedly,

I found your website and noticed that you may have served with these units or members and may have communication with possible witnesses.
I am investigating the MIA Case for Floyd "Rock" ROBINSON, Co. D, 1st BN, 8 IN-4ID who was part of a 5 man Recon team last seen during an ambush on 12 March 1969. The mission of the team was to move to Hill 873.
We have interviewed many former enemy witnesses in Vietnam, but have not yet found his location.
My question to you is are you in communication with any of the Delta CO o Echo CO members? Robinson was in Delta CO but was on the patrol that day with five Echo CO team members all working for Alpha CO 1/8/4ID:
SGT Randolph T. "LRP" CHRIETZBERG
SPC Wayne "Jocko" JOSLIN
SPC John L. "Pee Wee" PISARSKI
SPC James A. "Frank" FRANKLIN
Maybe they have some additional information that can help. I would like any information they have (notes, diaries, maps, etc.). Looking for grids for FB 20, and Camp Enari. Maps or mission notes from A Company CO on the operation and mission for that day. I have found two operations ongoing at that time but not sure which operation Hill 873 and the Recon team was supporting. I can try to find the AARs at National Archives for Operation Wayne Grey (1 Mar 1969 to 14 Apr 1969) and Operation Hines (11 Feb 1969 to 17 Nov 1970), but need to know which one.
I would like to send an Investigative team to retrace the Recon team's footsteps that day. The team leader mentioned heading toward Hill 873 on a 150 azimuth avoiding trails, then they were ambushed near a large bunker complex.
Should be easy to find those structures on the ground if I could get more detail. I have a former PAVN witness who ambushed a small 5 man team, who said ROBINSON was ill and wounded and died so they buried him in a nearby bunker. This witness is key as he discussed ROBINSON being ill, the US Recon members also stated that ROBINSON was sick and nauseous drinking lots of water on the recon mission.
Any chance you can reach out to your fellow Veterans? Any upcoming meetings or get-togethers? You would be surprised what little pieces of the puzzle are needed to resolve these cases.
Thank you in advance for your assistance.
LTC Kate van Auken
United States Army
Office of the Secretary of Defense
Defense Prisoner of War/Missing Personnel Office
If you can shed any light on this patrol, please contact Swamp_Fox address at bottom of page and I will forward it to LTC van Auken.
PS: I have a map of the area if you want to see it, email Swamp_fox at address below and I will give you the link.
Found this page from A/1/8 member of Tracer 5. and this one also...

---

Lt. John Nolan
4th Platoon
D Company, 1st Bn, 8th Inf, 4th Inf Div

First of all I want to thank Homer Steedly for putting together this site.

For most of my tour (Nov '68 to Nov'69) I was 4th Platoon Leader of Delta Company. There are really no words in my grasp to express my respect and thanks for the men who passed through the unit. The job you did, the courage you displayed and the sacrifices you made were truly incredible. It is a failure of mine that I can no longer name each one of you. Your faces flashback, but not all of your names. In that respect this site may help all those who discover it.

While I can, I want to document those I remember and their position- primarily 4th Plt, but also in Delta. I hope others can fill in the blanks, before, during and after my tour. By the spring/summer of '69 Delta's four platoons averaged about 20 men apiece, and were reformed into three. In my mind I will always remain Plt Ldr of Delta 4, but in reality that designation changed, frankly I don't recall my new call sign.

Delta Company Commanders

CPT Ted Yamashita from ~ Oct 1968 to ~Apr 1969

CPT Caldwell Apr '69 to ?

CPT Steedly ~Oct 1969 to ~Feb 1970


3rd Plt Ldr Frank Thomas ? Fall '68 to Winter'69

Plt Ldr Robert Ponzo Winter'69 to ?

Plt Ldr Peebles Fall '68 " later became D Co. XO

Plt Ldr John Hines Nov '68 Summer '69 later became D Co XO

4th Plt Ldr John Nolan Nov '68 Jun '69 became A Co XO


4th Plt SGTS

Brown

L R Reyes

Joe Ward

Pete Harris


4th Platoon Sqd Ldrs/Members ( I lump these because almost everyone held a leadership position at some point due to attrition)

Leonard Miller RTO Became Co RTO, then Bn RTO, it is my understanding that Leonard was wounded in Operation Wayne Grey while serving in the Bn TOC.

Ed Folley, RTO

Jim Karls, RTO

Nagel , Sqd Ldr

Louis Rivera Reyes, M60, Sqd Ldr, Plt Sgt.

Jerome Parker, Sqd Ldr Jerome was wounded May 16th while point Sqd Ldr on a Hilltop sweep near firebase Denise ( near An Khe). He was hit multiple times by automatic fire and continued to direct his squad until the enemy fire ceased.

Savage, M60

Tucker, M60

Tefatiller

Joe Fowler, Tm Ldr, Point . Joe was killed May 16th,1969, in ambush while walking point near firebase Denise, An Khe. Joe was a totally reliable 11 Bravo. He quietly accepted all assignments, and executed them professionally. He often walked point and kept the platoon and Company on course and on more than one occasion gave us prior warning to approaching NVA.

Russell Colby

Anderson

Burke, I believe went to sniper school and returned to unit.

Carisquilla

Incarnation

There are many more who will come to mind and be added. Any readers please add to this list also.

Soon I will add brief descriptions of various Delta 4 operations during my tour.
Email Swamp_Fox address at bottom of page and I will forward it to John.
Posted 01 SEP 2010

---
Gary Lysne

I was with the company from Jan 69 through Jan 70. I was a SSG instant NCO who was always with the 3rd Plt, the first month or so as a squad ldr, and then Plt. Sgt or Plt Ldr. depending on the vacancy. When you came into the company Lt. Stephen North was brand new as 3rd Plt. Ldr and I was the Plt. Sgt. Someone sent me your website and I have just finished reading it in its entirety. Thank you for your website.

I am the policeman from Seattle, that you talked about in your Oct. 69 ambush story that carried one of our casualties off the hill. I returned to the Police Dept. and retired Oct. 94, for service with 27 yrs.
I would like to hear from anyone in the unit.


Posted 28 JAN 2005
---
Al Wall

I was with D 1/8th 4th ID in late 1969 and early 1970 then transferred to C 1/12th 4th ID till Sept 1970. If anyone knows me e-mail me at:




Posted 16 NOV 2004
---
Dennis Crawford
Hello my name is Dennis Crawford. I served with D Company, 1st of the 8th, weapons squad, M-60 machine gunner from Sept. 68 till Aug 69. I recognize Rick Abrams and Robinson. I have the cigarette lighter that you have shown online. I have picture of those guys and many more. I am trying to locate Rick Abrams. I am from long island NY. I would like to hear from you.



---
Ed Warneld
SFC USA,  Retired

I went to Nam on my second tour, with the newly formed Co D 1/8 . Left Ft Lewis Aug 67 (Mc Chord AFB ) on a C 141. I Do Not Remember I was a E-6 at the time. When we got to Dragon Mountain I was moved to the Bn S-5. I stayed with the 4th until Feb  68.




Posted 30 JUL 2005

---

Ed Warneld US Army Ret

DC ,25th Wall- Parade 8 Nov to 11 Nov 07

There are 4 of us from D Co 1st of the 8th going, we departed Ft Lewis on 9th Aug 67 with the newly formed D Co 1st Bn 8th Inf. We are staying at the Hilton Garden Inn, Arlington Va. Any other who want to join us give me a call at the Hotel. Rooms can be booked on line at a great savings.




27SEP 2007
---
Leslie Durkee,

D/1/8 came into the Company about OCT 5th 1969 to the 1st Plt. as a rifleman. He humped the AN/PRC-25 radio and remembers always being up with the first squad while humping with the Platoon, so he must have been the RTO for the Plt. Ldr. He is looking for someone who remembers him, the V.A. has not been helpful in processing his claim for benefits. They don't think he was there. His records, Name and Soc. Sec. # are incorrect in the records data base. They have a "Kelly" Durkee, but not a Leslie, his Soc. Sec. # is one digit off from their records, so he is looking for someone to confirm he was there.

To refresh your memories, 1st Plt. was involved in a firefight on Dec. 5th, where Roger McWrite (sic) point man and their medic Jerry Hauschultz were killed as well. To further aid your memory, I think someone took a round in the helmet during that and wasn't killed. Leslie broke his wrist that day and was dusted off to An Khe and never returned to the field, consequently he never received any of his records or awards or personally signed out of the company.

He remembers his Plt. Ldr as Pete Dripps. I remember the incident he talked about, but not a Lt. Dripps. I wonder if it wasn't Lt. Peoples? I thought Lt. Holder was the Lt. of the 1st Plt. about that time. I think Glenn Sattler was in the 1st Plt. as well, either as Acting Plt. Ldr or Plt. Sgt. or Lt. Bruce Simmons. Carl Nagel a squad leader, was in the first Plt. then as well. I am hoping our 3rd Plt Medic Ray Hubbard will remember the incident as well.

If you remember him, or would check with any of your contacts and see if they remember him, it would be very helpful to him.
You can email me here at the website if you have any news for Leslie...
Thanks...
Homer

Posted 17 MAY 2007
---
Bill Johnson

I was deeply touched by your great website, and by many of your comments. How is it that we come to late middle age before we can look back in detail at those times? For too many reasons to list right now, I believe we are kindred spirits in many ways. By way of introduction, I was a draftee grunt who arrived at D/1/8 in early October 1967, and humped with 3rd platoon of that company (carried an M-79, then a PRC-25) until I got profiled out of the infantry (messed-up knees from getting me and my radio out of the lead ship on a hot LZ in April 68 - but that's a different story). I was bounced around the medical labyrinth for about 6 weeks, and then got a job with 4th Div Awards & Casualties Branch (4th Admin Co) where I proof-read valor awards for a few weeks, then moved to the casualty reporting section, where I rose to NCOIC (acting E-5) for a time, then went to 8th Field Hosp. in Nha Trang as hospital liaison. In that cushy slot I extended my tour, and got an "early out" in Nov. 68, so I didn't have to face being a garrison soldier for the balance of my hitch. So I was part 11B and part REMF - two distinctly different experiences, and that's putting it mildly. Since my field time was over before you got there, we share some of the same ground, but at different times. I do, however, have one specific question for now: Do you perhaps recall Capt. Raymond P. Sanders of D/1/8? He was a mustang who assumed command of D Co in Feb. 68 at Dak To. He was, in my opinion, the finest company commander a grunt could have wished for - no BS, no Mickey-mouse, and a real concern for his guys. I believe his tour as CO would have ended about the time you got to C Co, so maybe you never crossed his path. I'd like to communicate with anyone out there who remembers me, or who served where and when I did. That's it for now. Welcome home, friend, and welcome to a better life. I look forward to hearing from you.





Check out Bill's Recounting of Thanksgiving Day 1967.

Posted 2 JUN 2005
---
Tom White
D Company
1st Bn, 8th Infantry
This is a great site you've got started. It's going to help you and a lot of others.
I was with D/1/8 as a rifleman in the fall of 1967. At the time the Captain's name was Charles Burke, XO was Lt. John Cannon and the First Sgt was Carter. I was in Lt. Robert Kellas, "Hardcore's" Platoon and my squad leader was SGT Jack Wolf. The company went to 'Nam as a unit in mid-August 1967. After a couple of days of in country training, us new guys joined the company at a forward firebase on October 5, 1967.
This was my first letter home.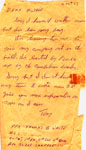 I believe there were only 85 of us in total, or may be it was only 85 men in the field at that time. We worked West of Pleiku along the Cambodian border and in fact ran a few 5-6 man patrols across the border. We were told we "volunteered" for those missions and we wouldn't get any air or artillery support if we got in trouble over there. I never believed that but fortunately didn't have to find out.
About Nov 1st we were moved South heading for Ban Me Thout to help the 25th Div out, when General Peers got the word about the NVA build up in the Dak To area. Before we got to Ban Me Thout, we were turned around, brought to base camp at Pleiku, fed a lot of beer and then sent to Dak To.
Best regards,
This roster and list of initial issue field gear is also provided by Tom ...
---
"D" Company, 1st Battalion, 8th Infantry Regiment, 4th Infantry Division, II Corp - Vietnam, 1967.
Burke, Charles F. CPT. (CO)
Cannon, John D. LT. (XO)
Carter FIRST SGT.
Lindy SUPPLY SGT.
Little John, LT. Platoon Leader
Lohmaier, LT. (Dirties) Platoon Leader
Kellas, Robert LT. (2nd PLATOON LEADER (HARDCORE) KIA 1/28/68
Spangler LT. PLATOON LEADER (RAT)
Baker Wounded
Barker, Garry Wounded
Barton, Bernard B
Baylor, Norman E
Berry, Sgt.
Borge, Ronald M
Boss, Ted Wounded
Boswell, Clarence
Bounds, Gary L
Brown PLATOON SGT. Wounded
Brady
Butler, Marshall
Byrd, SGT Wounded
Callahan, John
Coppo, Ernest L
Cunningham, Henery
Gray, Richard E
Davis, Willie H
Dellveccio (Supply)
Dornboss, Paul F Wounded
Eberwine, Jerry
Edwards, Richie
Edward, JOE SGT. Wounded, THREE TIMES 09/13/&11/19/67, 02/68
Esselrach, Gregory
Fernandez-Leston Enrique (Pancho) PLATOON SGT. KIA 1/7/68
Finke, Jerry
Frazell, JOE
Frazier, Albert KIA 12/04/67
Garcia, George N
Garcia Manuel F
Gerding, Gary E
Gregg, Joseph KIA 11/19/67
Gremillion, James E
Hadley William SGT. SQUAD LEADER KIA 12/04/67
Hennessy (Supply) big kid
Hernandez, Nichols Wounded 10/16/67
Hill, Barry Wounded 11/19/67
Holcomb, Mike
House, Thomas J
Johnson, MACHINE GUNNER
Jhonson, William A
Kelly, Mike (Fred??) RADIO MAN
Kick, Ron
Labra, Tito
Larnell, Ross B
Levasseur, Walter R Wounded, Two Times 10/17/67 & 11/19/67
Lerma, Max medic
Lewis, Bunny SGT. SQUAD LEADER Wounded
Lightring, Bobby L
Lyons, Joe Papa Bear Wounded 10/16/67, KIA 11/19/67
Masotta, Terry
McAndress, Larry Wounded 09/13/67
McDonell, John Radio Man
McKee, Mike L Wounded
Miller
Montanez, Pedro KIA 11/19/67
Montgomery, George KIA 04/19/68
Reed, Lesley (George) KIA 11/19/67
Renz, Gerald Wounded
Rittmer, James E
Robinson, Platoon SGT.
Rogers, Larry
Silverman Barry Wounded
Simms, Al Wounded, TWO TIMES
Taliman, Darell D
Taylor, Peter W
Tubbs, Gordon WOUNDED
Tucker, Arthur KIA 03/28/68
Underwood, Garry L
Vargas, Abran
White, Thomas B
White Thomas E (the other Tom White) Wounded
Williams, Johnny JR KIA 09/13/67
Wolf Jack SGT. SQUAD LEADER KIA 03/28/68
Yeager, Richard, D
---
My Initial Issue of Field Gear
4 HAND GRENADES
1 BATTERY FOR PRICK 25
1 HAND FLARE
1 TRIP FLARE
10 MAGIZINES M-16 AMMO 200 ROUNDS
100 ROUNDS M-60 MACHINE GUN AMMO
1 BEEHIVE ROUND 90MM
1 ENTRENCHING TOOL
1 PONCHO AND LINER
1 AIR MATTRESS
1 CLAYMORE MINE
4 CANTEENS WATER
4 DAY SUPPLY FOOD
RIFLE M-16
STEEL POT
PERSONAL STUFF
---



Posted 14 DEC 2004 updated 23 SEP 2012 ... Corrected 9 SEP 2019
---
Reginald Mongeur

I was with D/1/8 from Sept 1968 until March 1969. We were on FSB 32 I believe. It has been so long that I am not sure. My PSG was Francis Daniels. He was an E-6. Tall guy with a handlebar moustache. My squad leader was E-5 Ron Nelson from GA, I think.

I am always looking for guys from my time in the NAM




Thank you BROTHER
You have a great website!!!!!!!!!!!!!!!!!!

Posted 28 JAN 2005
---
Paul Hubbard
D/1/8

I just read your account of OCT 30,1969 with as much detached interest as I could muster. It was upsetting, to say the least, way too close to home. I was the 3rd platoon medic assisting doc Keyes pull the wounded and dead back to safety. He and I had no covering fire with the exception of Sgt Ted Bahle, whom I would love to contact and thank one more time. I may have been too busy to hear or see the covering fire, as I was concerned with the comments from yourself and Top Madden "You have 5 minutes to get them out. I've got artillery coming." followed by "You have 5 minutes to get them out. I've got gunships and planes on the way". Although your name rung no bells, your picture did. As one of the paths I've crossed, I thank you for being a part of my life, leader, comrade, protector. I now live my life in Missouri, healthy for my age and pray my children never have to tell stories such as yours. Those who now serve are wished well and Godspeed.

Posted 4 MAR 2005

---
Gary Lysne
I was with the D/1/8 from Jan 69 through Jan 70. I am the policeman from Seattle. I was a SSG instant NCO who was always with the 3rd Plt, the first month or so as a squad Ldr, and then Plt. Sgt or Plt Ldr depending on the vacancy. When you came into the company Lt. Stephen North was brand new as 3rd Plt. Ldr and I was the Plt. Sgt.
Gary remembers the following individuals...
1. Capt. Caldwell, D/1/8.
2. Lt. Simmons, Plt. Ldr. I believe the 2nd.
3. Lt. North 3rd Plt. Ldr.
4. SSG Harris, my platoon Sgt. before Lt. North arrived, can't remember which Plt he went to after Lt. North arrived, but I believe he was moved three times. I think he came to 3rd from 1st and was used as Platoon Ldr or Sgt. also.
5. SSg Sattler, he was Plt Ldr or Sgt like me depending on vacancies of 2nd Plt. at any rate same Plt as Lt. Simmons.
6. SGt. Bahle was squad leader in third Plt. until I left and then I think he was moved to Plt Sgt.
7. Sgt Lichtenthal
8. McNeely was a grunt, and sent back to base camp around Sept.69 to be Co. Clerk, so he has a pretty good recollection of what was going on, Capt. Caldwell found out he could type.
9. Monguer, a rifleman from 1st Plt. I think.
10. Sgt. Nagel, who has contacted you and sent me your website, I think the 1st Plt
11. Snell, he was in weapons platoon, that was started in Oct., we never had one before that. He has a ton of pictures on 35MM slides. He came up a couple of years ago and showed them to me, and he came into the company about the time you did. He went down on a Chinook in Mar or April of 70 up near DAK To. I was gone but he told me about it, when we visited. I haven't been able to reach him here of late.
12. Doc Hubbard, 3rd Platoon medic.
13. I have attempted to contact Top Madden, but can't remember his first name or where he was from, we were very close, if you have any information about him I would like to have it or have you send my info. to him.
14 I would also like to talk to Doc Keyes, he was the company CP medic if you have any information about him.
15. Lt. Ponzo, was the Platoon Ldr.
16. SSG Glenn Sattler, instant NCO like me. He was the 2nd Plt. Acting Plt. Ldr or Acting Plt. Sgt. depending on the vacancies.
----------------------------------------
Hi Homer,
Gary Lysne here, sorry I have taken so long to get back with names. We, my wife and I were visiting one of our daughters in Washington DC a couple of weeks ago and I met up with Lt. Bob Ponzo, 3rd Plt. Ldr when I arrived in country in Jan. 69. We have been in contact with one another off and on since 1992. We went over this picture and made notes of what we could remember about each person. I will forward it to you. Attached is a D/1/8 3rd Plt Photo taken about Mar 69, some of the people were still in the Plt. when you took over as CO. Carl Nagel sent me the thread of peoples names. I have contacts for several people and will note that as well. My policy has always been the same as yours, I send them an email and ask if they would like to hear from whoever it is trying to contact them.
SSG Glenn Sattler lives in Oklahoma, I have contact info. He has several contacts as well, but can't remember the names right now, will have him contact you.
SSG Pete Harris lives in New York, I have contact info.
Lt. Gene Holder, I have contact info.
Doc Hubbard, 3rd Plt. Medic, I have contact info.
Sgt Nick Lictenthal, WIA AK47 to chest off of Fire Base Denise, 1st or 2nd Plt.
Gary McNeely, I have contact info.
Reginald Mongeur, I have contact info, he can't remember which Plt he was in.
Lt. Steve North, I have contact info, 3rd Plt. Ldr starting last of Sept.
Terrence Rettig, machine gunner lives in Arkansas, I have been in contact for last 3 or 4 years, but his emails are now being sent back as bad address.
Lt. Bruce Simmons I have contact info.
Bob Snell, lives in Ore. have had contact info, now being returned as bad address, weapons Plt. came in country around Sept. 69.
James Wozniak, Machine Gunner Killed by friendly fire on F.B. Denise, last of Sept. 69, I have contact with his brother.
--------------------------------
Third Platoon Photo D/1/8
taken approx Feb 15th, 1969.
Steadfast and Loyal,
Gary Lysne
D/1/8 3rd Plt from a long time ago.
---------------------------------------------------------------
Here are some additional names for Third Platoon.
Doc Hubbard 3rd Plt. Medic from around April through Dec. 69 sent me these names from the third Platoon. These lists are for the most part, last names only, as he had them in a small notebook he carried. The date was about 15 Oct. 69
The names were compiled from a couple of different lists.
We never had enough personnel to have 4 squads in a Platoon or 4 Platoons in the Company. If my memory is correct, this was just about the highest number of personnel that I can ever remember having in the Third Platoon. We were seldom much more than 20 to 25 in strength. This list is actually high, because a couple of the names listed were scratched out due to DEROS, medical or transfer, but I included their names because I didn't want to leave anyone out. Hopefully, the names will jog others to remember first names or where they were/are from, so that we may be able to contact them sometime in the future. Take care and thanks for the website.
Platoon CP
Lt. Stephen North **
SSG Gary Lysne **
Jones
Darrell Stephens
Doc Raydon Hubbard **
1st Squad
SGT Ted Bahle **
Jacobs
Baldwin
Thomas
Frank Rueda
Davis
Rivers
Sumpter
2cd Squad
SSG Pete Harris **
Williams
Campbell
Marshalek
Orth
Giles
Lovejoy
3rd Squad
SGT Calhoun
Baker
Streater
Flint
Ladensack
Kostazewa
Taylor
Weapons Squad
West
Brown
Smith
Beliski
** I have contact information for these names.
---

D Company, 1st Battalion, 8th Infantry Index

D Company, 1st Battalion, 8th Infantry GuestBook

D Company, 1st Battalion, 8th Infantry Photo Gallery

D Company, 1st Battalion, 8th Infantry Stories


---
All Email addresses are in picture format only to discourage web bots from harvesting for junk mail lists. Type them into your mail manually. Site designed for Internet Explorer Version 6.0 or higher, viewed with text size medium and desktop resolution of 1024 x 768 pixels.
---
Webmaster:Homer R. Steedly Jr. (Email: Swamp_fox at earthlink.net) Copyright 08/12/1995 - 05/26/23. Commercial Use of material on this site is prohibited.